Rosemary & Lemon Lotion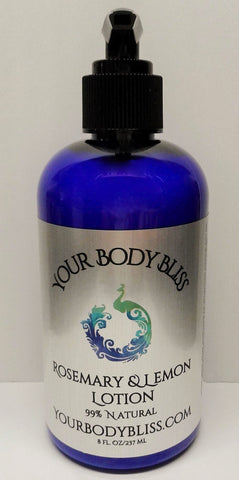 Made with the perfect blend of  Rosemary and Lemon essential oil.  Clean, fresh and 99% natural. Rosemary and Lemon are great for your skin. Rosemary has anti-inflammatory properties, improves circulation. Lemon essential oil high in vitamin C helps tone and promote clear skin.  We make our lotions fresh from scratch. Our lotions are thick, creamy and never watered down. We formulated them to be quickly absorbed,  with ingredients like organic Shea Butter that contain antioxidants, Vitamin A and E to repair and revitalize skin.
Ingredients: Water, Sunflower Oil Helianthus annuus), Emu Oil, (Dromaius novaehollandiae), Organic Shea Butter (Butyrospermum Parkii), Emulsifying Wax NF, Stearic Acid (Vegetable Based), Essential Oils of Rosemary (Rosmarinus officinalis) and Lemon (Citrus limon),Optiphen Plus
Every single product you purchase from YBB Bath & Body was lovingly made by hand, therefore, there will be slight variations in size and color. Made by humans for humans.
 
---
More from this collection